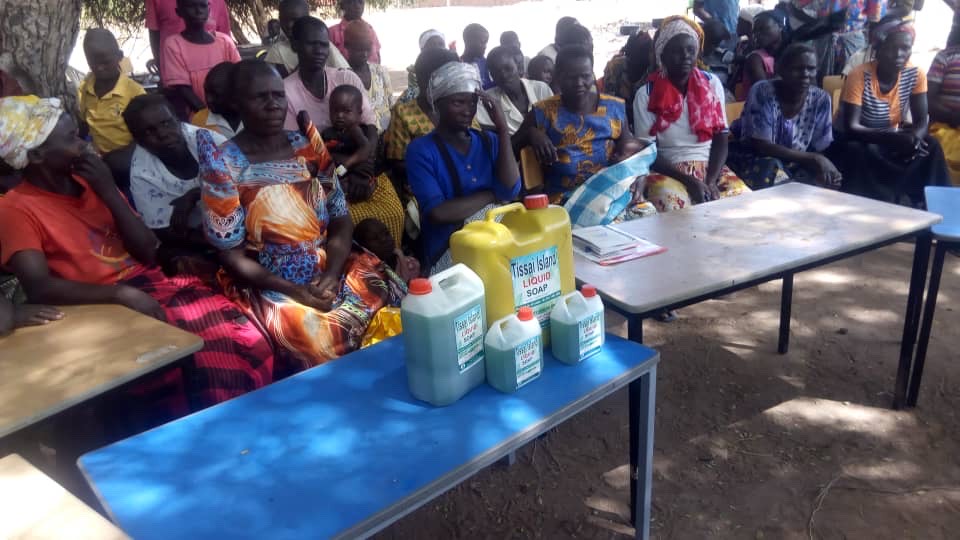 The Mustard Seed Project (Uganda) have been supporting the community of Tisai Island, situated in a swamp in Eastern Uganda, since 2016. The island was only discovered to be inhabited 8 years ago, after families had returned to their land since the insurgencies of the Lord's Resistance Army and attacks from the Karamojong.
Since 2016 The Mustard Seed Project has fundraised to build a school for over 400 children, a community centre, a health centre and we sponsor a nurse and teachers. We have promoted sustainability through the planting of crops to feed the school children, and the donations of farm animals to women's cooperatives.
We were delighted to receive a grant of £1500 from the Kitchen Table Charities Trust to provide a start-up business for women on the island in soap production. The grant has not only trained the women in soap making but it has enabled them to develop business plans and marketing ideas. The community centre was used to train the women in business techniques, and then soap making training took place under the mango trees.
The soap will be sold to hospitals and businesses on the mainland. One of the women trainees explained, "It has removed the spike from my eyes and given me a future." Not only will the training enable women to become more economically empowered, it has also given them agency and control over their lives.
The business will be sustainable; soap making skills will be passed on to younger generations of women, and the soap containers will be continually reused and refilled. Sales of the soap will be reinvested in more materials to make the products and enable mothers to support their families and keep their girl children in education. Girls are often sold for a bride-price rather than being allowed to continue their education. Being trained in soap production will enable girls to contribute economically to their families rather than being treated as a commodity.
I can not wait to visit the Island next year to report on how this initiative has developed and to purchase my first batch of Tisai Soap!