IMPLEMENTING ORGANIZATION: CONCERTED EFFORT UGANDA
FINANCIER: KITCHEN TABLE CHARITIES TRUST (KTCT) & DR HEMI BHATT
PREAMBLE
Concerted Effort Uganda is a fully registered Community-Based Organisation operating in Bugambe Sub-county, Hoima district in Uganda. In June 2014, we received a grant of £7000 from the KTCT and Dr Hemi Bhatt to support 30 women in Wamunga Village to engage in vegetable cultivation and to set up a demonstration farm for learning purposes and knowledge share. The main objective of this project was to improve the nutritional status of households and to support women and children through improvement of household incomes.
Since the second agricultural season had already begun, we commenced the project immediately after receiving the grant.
PROCUREMENT OF IMPLEMENTS AND INPUTS
Farm Implements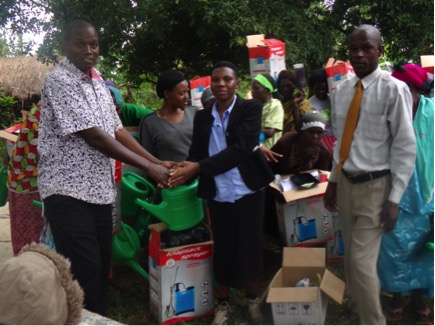 Procurement of farm implements was one of the core project activities. To ensure successful implementation of the project, we procured hoes, knapsack sprayers, watering cans, rakes, agricultural chemicals and seeds. Instead of pangas, we bought watering cans because they were more beneficial to the farmers in watering their nursery beds and their vegetable gardens especially during dry seasons.
These inputs were distributed to the women at the official launch of the project by Mr. Ebong Kenneth (in spotted shirt in the picture above shaking hands with the Executive Director), the Hoima District Community Development Officer on July 10, 2014. He urged the women to use these implements for agriculture and other household activities so as to improve their standards of living.
Watering cans were not enough for distribution to each one of the women so one watering can was shared by two women. They were advised to cheerfully share them in turns as and when needed.
Vegetable Seeds
The purchase of seeds was done seasonally to ensure that the women are given quality seeds with high germination rates. However, we taught the women how to prepare seeds from certain vegetable varieties such as tomatoes, kale, cucumbers and egg plants. This enabled us to cut costs on continuous purchase of these vegetable seeds.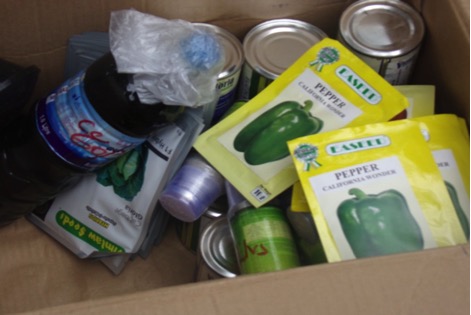 DEMONSTRATION FARM
The demonstration farm was established for only one season. Women and all interested members of the community were freely allowed to access it. We employed two permanent caretakers of the demonstration farm to water the nursery beds, spray pesticides, apply fertilizers and guard against thieves and vermin. Since it was through practice that they could learn vegetable husbandry skills, the target women voluntarily offered labour (especially transplanting, weeding and harvesting) in the demonstration farm. Some of the pictures (below) from the demonstration farm were shared with you in our previous project reports.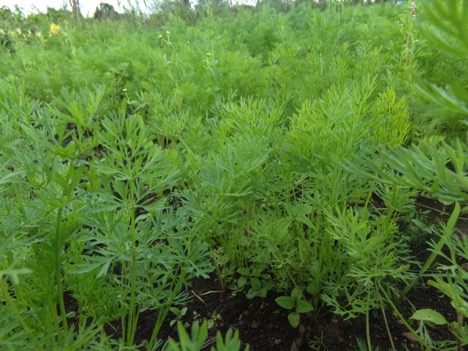 FERTILIZER APPLICATION AND PEST CONTROL
Procurement of fertilizers and agricultural chemicals was one of the most difficult tasks due to presence in the market of counterfeits which are difficult to discern. We had to take extra caution to ensure the purchase of genuine products.
HOW THE COMMUNITY HAS BENEFITED FROM THIS PROJECT
The objectives of this project were to support women to engage in vegetable growing, improve household nutrition and to enhance household income thus reducing poverty in households. Basing on these objectives, this project has benefited the community in the following ways:
Many households which previously had no idea on vegetable growing have practically learnt the skills right from nursery bed preparation, transplanting, fertilizer application, pest control and harvesting. In addition to learning basic vegetable husbandry, the women have been given relevant agricultural equipments which will support them in vegetable cultivation for a long time even after the completion of this project. These equipments include knapsack sprayers, hoes, watering cans and rakes, some of which most of these households didn't previously possess.
The target women and the entire community have benefited through improved nutrition. Before the implementation of the project, most households could not afford vegetables. With the implementation of the project, many households can now afford vegetables. The entire community has benefited from the increased vegetable production in that the surplus vegetable is sold in the local markets at affordable prices for the rest of the community.
By selling the surplus produce, the project women have increased their household incomes. This has enabled them to meet their basic needs such as school fees for their children, costs of medical care and clothing. One of the women has even started buying building materials to enable her build a semi-permanent house. Another one has bought a mobile phone to ease communication. Others have used income from the sale of their vegetables in various ways to improve their standards of living.
The project has linked the community to traders who now buy vegetables directly from the project women. This makes it easy for them to sell their surplus vegetables without the hassle of taking them to the market themselves. This saves them time and the energy that would have been spent taking their vegetables to the market thus enabling them to concentrate on other economic activities. These produce dealers will continue to offer steady market for these women's vegetables even after the completion of this project.
The above benefits of the project have encouraged these women to plough back part of the income from the sale of their vegetables so as to continue with vegetable cultivation even as this project winds up. Some of the women in our group have already bought seeds and started preparing nursery beds for the coming agricultural season which is due to start by mid-August.
CHALLENGES ENCOUNTERED IN PROJECT IMPLEMENTATION
At the inception of this project, many other women were interested to join but due to financial constraints, we couldn't support them all. This made those left out to feel neglected and it was indeed a difficult decision to exclude them from the project. However, we allowed every interested people in the community to visit the demonstration farm at will so as to learn the basics of vegetable cultivation.
This project was launched after the national budget had been read and a hefty tax had just been levied on agricultural inputs and implements. The increased taxation of agricultural inputs increased our operating costs. More so, we encountered the challenge of fake seeds and fake agricultural implements in the market. To surmount this challenge, we would only buy inputs from certified dealers who were unfortunately far away from our area of operation thus increasing our transport costs.
Another problem we encountered was drought which intermittently led to water shortage thus affecting our activities. Early this year, the rainy season started very late (in April) yet it normally starts in mid-February. Some nursery beds dried up thus the women had to prepare them again. This meant providing them with more seeds and this disrupted our activities and increased the cost of purchasing more vegetable seeds for the project women.
HOW PROJECT FUNDS WERE USED
The total cost of the project was £7,442. A total of £960 was used to buy farm implements for the women. These implements were freely and permanently given to these women to support their agricultural activities both during and after project implementation. We permitted and encouraged the women to use these farm implements for any appropriate agricultural activity to enable them fight poverty in their households.
We spent a total of £1,432 on the purchase of vegetable seeds. We purchased many types of vegetable seeds in the first season of the project. In the second season of the project, we purchased a few varieties of vegetable seeds because we had locally prepared some seeds from our vegetable harvested in the previous season. This enabled us to cut costs on the purchase of seeds and also enabled the women to practically learn how to prepare seeds so that they don't incur costs of purchasing seeds every season. In the picture (overleaf), locally prepared seeds of amaranths (pig weed) were being distributed to the women at a group meeting.
A total of £952 was used for the purchase of fertilizers while £1,468 was spent on the purchase of pesticides. The establishment and maintenance of the demonstration farm cost a total of £2,457 while the costs for transportation of farm implements, seeds and agricultural chemicals were £173.
REVENUE GENERATED BY THE PROJECT
The incomes from the sale of vegetables from the individual women's gardens were solely for their household use. However, the sale of vegetables from the demonstration farm was used to supplement the project budget.  Of the £793 generated from the sale of vegetables from the demonstration farm, £442 was used to supplement the budget of this project. The balance of £351 has been earmarked for the purchase of some pesticides for the women in the coming agricultural season in order to compensate them for their voluntary work in the demonstration farm.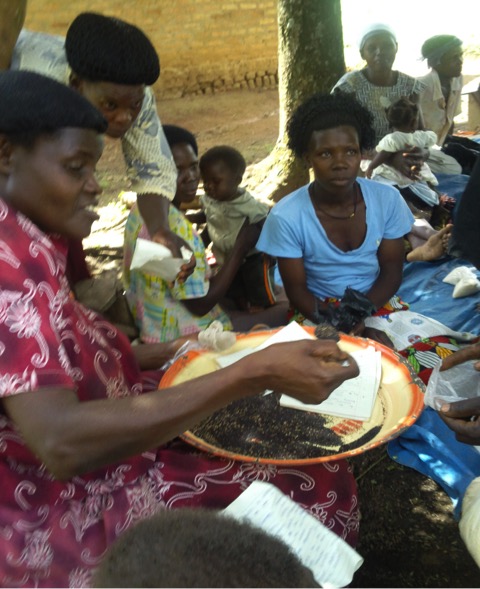 SOME PICTURES FROM FIELD VISITS TO SOME OF THE PROJECT WOMEN
I took photos sporadically while on project field visits, some of which are included below: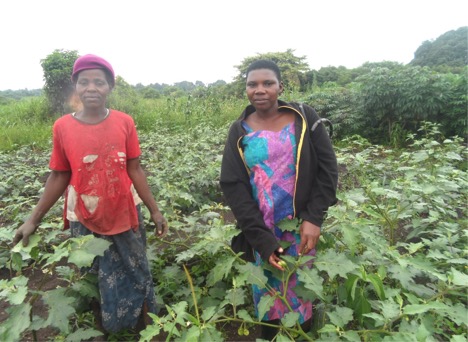 On a visit to the home of one of the project women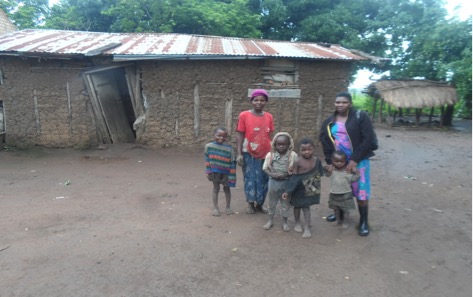 In her garden
On a visit to a community water source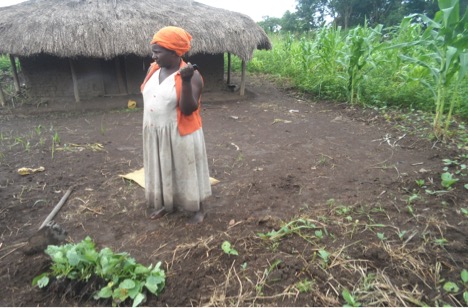 Transplanting vegetables in a garden adjoining her compound
I helped her in transplanting the vegetables
The woman below has planted several varieties of vegetables as shown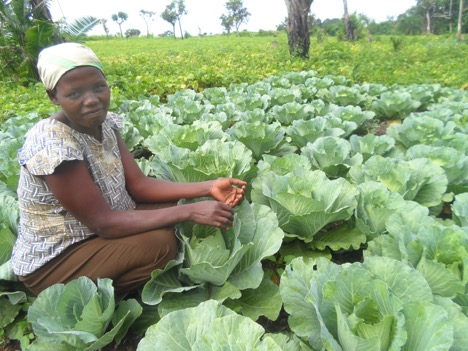 From the sale of her vegetables, she saved some money and is slowly buying building materials to enable her build a decent house to replace her current one (below)
A cheerful woman with her harvested cabbage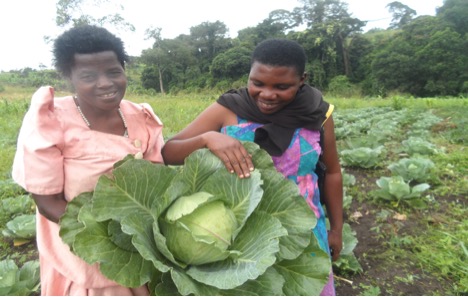 In the picture below, she was directing me to her other vegetable garden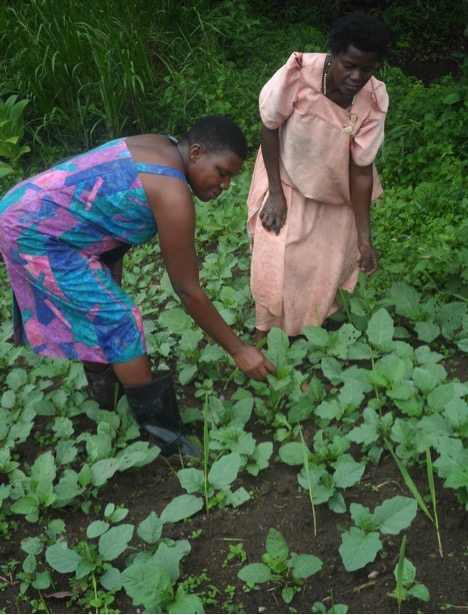 A woman in her tomato garden
I was also given some vegetables to take home.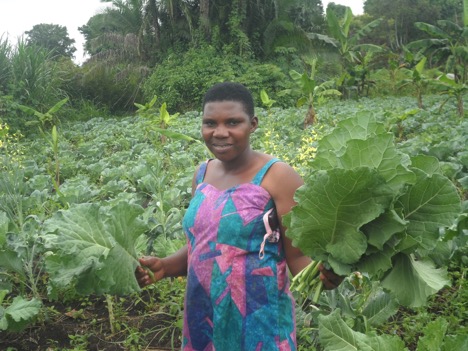 CONCLUDING REMARKS AND APPRECIATION
The successful implementation of this project has helped the women in our community to realize that development is a result of hard work and proper planning. What is important is for women to create sustainable relationships to improve our welfare. We recognize the Hoima District Community Development Officer for humbly accepting our invitation to preside at the launch of this project on July 10, 2014. His invaluable advice encouraged us to work had to implement this project to completion.
The entire management of Concerted Effort Uganda is very grateful to the Kitchen Tables Charities Trust and Dr. Hemi Bhatt for your generous contribution which enabled us to successfully implement this project. Your boundless generosity is a clear testimony that there exists a breed of refined humans who believe that more happiness is derived not from ignoring the needy but from helping them to achieve their full potential.
I take this opportunity to welcome to our community any of you who may have the chance to transit through Uganda so that you see for yourself how we are faring. We shall welcome you with open arms.