Warm greetings from Mothers' Initiatives Africa. We thank the Almighty God for successfully completing the year 2017 which has been a great year in the history of Mothers' Initiatives Africa. Happy New Year to you all at Kitchen Table Charities Trust and we hope to have steady progress in 2018 as we strongly believe that a new year comes with new opportunities.
As I write this email, am glad to inform you that our Safe Motherhood Project was successfully completed and on that note, we at Mothers' Initiatives Africa would like to extend our sincere thanks and gratitude to the entire team at KTCT for the support it has accorded to MIA. We appreciate so much and its our prayer that God richly and abundantly reward you all.
Many thanks to you once again for the kindness, love, care & support and please find attached the End of Project Report and Receipts showing how we spent the project funds.
Mothers' Initiatives Africa
About Mothers' Initiatives Africa
Mothers' Initiatives Africa (MIA) is a community based not-for-profit organization embedded with an integrated empowerment programme. MIA was established in 2012 and is registered as a Community Based Organization with Mbale and Manafa district local government Departments of Community Development. In 2014, MIA was registered as a Company Limited by Guarantee (Reg. No. 194140) under the laws of Uganda. Our offices are located in Mbale Municipal Council along Kumi -Road.
How we work: At MIA, we are working with women in groups to help them transform their livelihoods. Our groups consists of widows, young women who are HIV positive, school dropouts, rape and defilement victims, out of school youths, single mothers, disabled women, elderly, Orphans and Vulnerable Children in society. We embrace the needs approach where we convene as a group to identify our problems and find ways in which we can help ourselves out of the existing problem using the existing resources. In doing this, we are participatory as we involve our mothers/members in each and everything we do as an organization. We maintain a close relationship with all our group members and advise them on any opportunities or trends affecting them. For all the activities we undertake, with the beneficiaries we serve, we ensure strict confidentiality. We insist on delivering life transforming support that adds value to the life of both our mothers and their children. We also study, analyze and advocate for initiatives that promote access to public services and empowerment of the community..
What we do: MIA has prioritized six programme areas with the aim of empowering women and girls in order to improve their livelihoods. The six areas are:
1) Orphan outreach: This programme focuses on looking after orphaned children especially those who lost their parents because of HIV/AIDS through supporting them in terms of scholastic materials and fees, food, shelter and medical care.
2) Psycho-social support: We give psycho-social support, through counseling and talks, to our members who have been traumatized in any way.
3) Village Savings and Loans Association: We do support Village Savings and Loans Association to improve members saving culture and raise capital to start small businesses that can enhance livelihoods by members.
4) Community health: We involve ourselves into community campaigns about improving the maternal and reproductive health issues of all mothers in Uganda
5) Women and Child sensitization: We sensitize the mothers and OVCs about the existing rights and promoting public awareness of the need to protect vulnerable women and advocating for a more favorable environment and positive aspects of cultural and traditional practices that encourage human and social responsibility of the entire community.
6) Awareness for self-help projects: We raise awareness about the need to involve our members and the communities in self-help projects that can help them sustain the livelihoods of their families. This is aimed at empowering our women by making them self-reliant and financially Independent by setting up projects that teach them skills, give them a start-up capital so that they can take care of themselves without compromising the lives of their vulnerable children.
Improving the Health of Rural Women and Young Girls in Manafwa and Mbale Districts of Uganda Project
With Financial support from Kitchen Table Charities Trust, MIA implemented a Project titled "Improving the Health of Rural Women and Young Girls in Manafwa and Mbale Districts of Uganda" project. The one year project started in March 2017 and ends in February, 2018.
Purpose and Objectives of the Project
The purpose of the project was to contribute towards improving the reproductive health and ensure safe motherhood of women and girls in Manafwa and Mbale District of Uganda through distribution of Clean Delivery Kits (mama kits) and training of community health workers such as traditional birth attendants, village health team, mama ambassadors and mother mentors to improve their knowledge of prenatal conditions and complications of pregnancy and importance of referrals to essential obstetric care to mothers and babies in health facilities. The specific objectives of the project were:
1)    To train traditional birth attendants and other community health workers to increase their knowledge on of prenatal conditions and complications of pregnancy and importance of referrals to essential obstetric care to mothers and babies in health facilities
2)    To increase access and availability of clean delivery kits for expectant mothers
3)    To increase knowledge on dangers of early pregnancy among school going young girls aged between 13 to 19 years.
Results and Achievements of the project
Training traditional birth attendants and other community health workers
Under the project, Mothers' Initiatives Africa organized and conducted two trainings of Traditional Birth Attendants and other community health workers in both Mbale and Manafwa Districts. A total of 72 Traditional Birth Attendants/Community level Health workers, 22 Local leaders and 150 women from the Community benefited from the training in the two districts.  The trainings were facilitated by qualified health workers including midwives, nursing officers and District Health Educators from the two districts, recommended by the respective Directorate of District health services.  The trainings covered core areas of maternal and child health, and the main topics covered were: a) roles of TBAs, improving the skills, understanding and stature of TBAs; b) increasing the number of births conducted by trained midwives through referrals by TBAs; and c) improving links between modern health services and the community through TBAs. The Training generally focused on teaching TBAs to embrace the concept of referring mothers so that deliveries can be conducted in a more hygienic and safer fashion, discouraging harmful practices, recognizing danger signs and referring women with complications to facilities where essential obstetric care is available. Health education for pregnant women, antenatal and postnatal care were included. Other topics in these trainings included: Menstrual Hygiene Management, Puberty, nutrition, breast feeding, Water, Hygiene & Sanitation, family planning, child health intervention and Gender Based Violence. The TBAs were also trained about keeping simple records with the intention of allowing the health system to monitor their activities.
Emerging Effects of the training
A post training assessment indicated a significant knowledge increase on maternal and child mortality issues. Participants drew action plans and way forward with commitment to vehemently ensuring that they reach out to communities.  Monitoring visits by MIA in November and early December revealed that amidst logistical challenges, the trained TBAs are putting the new skills and knowledge to use. Some of the early impacts reported during the monitoring visits were:
a)    Strong collaboration has been established between the TBAs and the health centres in the community. To encourage delivery in health centres, health centres are now allowing TBAs to facilitate their expectant mothers to deliver in the health centre under the TBA's care. This enables qualified health workers in the health centres to provide timely support in case of any emerging complication like over breeding as compared to the case when mothers deliver from the TBAs' homes. During the training, medical staff were also reminded to be supportive and understand mothers referred by TBAs to meet the standards of care for managing obstetrical and neonatal patients as joining this kind of responsibility will reduce maternal and child mortality in the District. This crucial intervention for all domiciliary birth attendants is a reliable support system for emergencies with sufficient skilled, equipped and available support from professional midwives and other staff with life-saving skills and if worked upon as team, it will lead to a reduction in maternal and child mortality in the region and the entire country.
However, during the MIA monitoring visits, it was found out that not all expectant mothers who go for antennal visits to the health facilities, deliver from the health centres. One of the mid wives at Magale Health Center III told us that:  For the period June-September, I registered 232 mothers for ANC who to deliver during this period but I delivered only 111 during that period, meaning the 121 were delivered by TBAs.
a)    The TBAs are monitoring indicators of pregnancy complications and referring expectant mothers with signs of pregnancy complications to the nearest community health facilities for safe delivery services under supervision of trained health workers. A count of referred mothers to health centres by the 72 TBAs trained under the project had reached 650 during the monitoring visits.
b)    Trained TBAs acquired critical information and are better equipped to provide appropriate guidance and information to expectant mothers, especially information related to signs of pregnancy complications and newborn child care to minimize infections among the new born babies. While carrying out our monitoring visits, we have found out that trained TBAs can recognize pre-natal conditions and complications of pregnancy and they have successfully identified them and made referrals bearing in mind that referrals and emergency obstetric care can improve the quality of health care and it can reduce both maternal and peri-natal mortality just like one the TBAs narrates:
"For me the MIA training was the first ever since I started the job of being a TBA (inherited from my late mother), I learnt a lot of things such as health benefits of referrals because these days there are a lot of diseases such as tetanus which, we, TBAs can't handle, but it can be handled at the health centre. Also, we can't handle a breach, too much bleeding and even sepsis in new borns. So we would like to appreciate the support from Kitchen Table Charities Trust in partnership with Mothers' Initiatives Africa for bringing to us this training".
Increased access and availability of clean delivery kits for expectant mothers
Through project support, MIA procured and delivered 1,000 clean delivery kits to expectant mothers in the two districts. This was after training of the TBAs, who were encouraged to refer expectant mothers seeking their services to nearby health centres for antenatal checks. Delivery kits were delivered at health centres to mothers who were in their last two months of pregnancy and priority was given vulnerable expectant mothers who would not afford to buy the delivery kits.  Each expectant mother receiving the delivery kits also received aqua safe tablets, Oral Rehydration Salts (ORS), Zinc   tablets, Fasile one tablets and a mosquito net.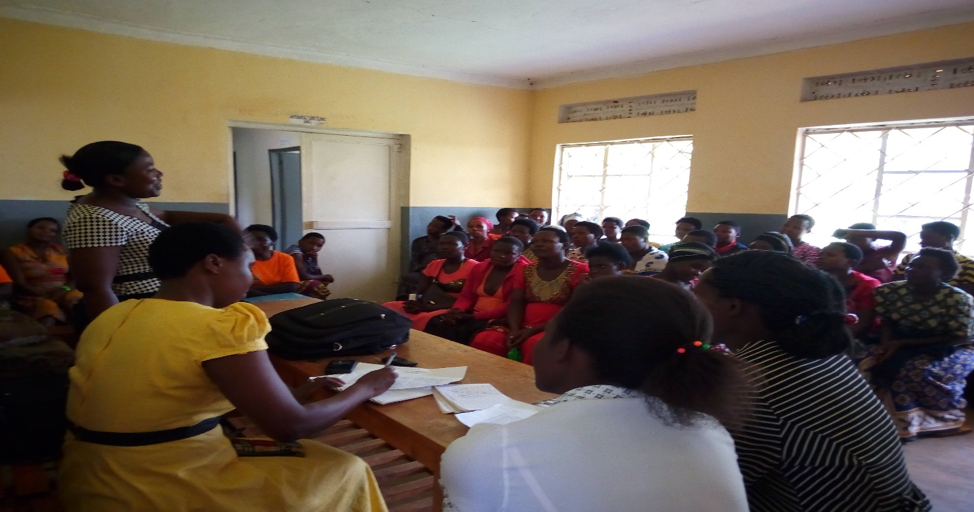 Distribution of the delivery kits enabled many mothers who would not afford the kits to delivery safely. The project was not able to conduct a tracer study to identity mothers who received the mama kits and delivered in the health centres as resources could not permit.
In addition, MIA produced and distributed 1,000 low literacy, highly illustrated   information,   education, and communication (IEC) materials on reproductive health and included information on PPH as well as child spacing and nutrition as complimentary tools to existing training materials for CBOs. These materials emphasized and reinforced key messages given by Mama Ambassadors, to serve as reminders and reference materials.
Increased knowledge on dangers of early pregnancy among school going young girls aged between 13 to 19 years
During one of the mentorship sessions at Africana High School, The Sub-county Chief of Bumasokho Subcounty – Mr. Wabuko M. Samwiri commended the efforts of Mothers' Initiatives Africa in contributing to the elimination of early pregnancies, child marriages and dropping out of school in the region. He also highlighted legal instruments and procedures at village, parish, sub county and district level. He also appealed to parents especially women and girls to be assertive, "…you should not sit back and watch while your rights and the rights of your children are being infringed upon, rise up and take charge. Some of us are willing to offer help… On the question of what should be done for parents who settle for meager financial compensations when their daughters are defiled, he said "Such parents should be apprehended with immediate effect, if you are a girl and you fall victim to such, I urge you to seek assistance from my office…any well-wisher aware of such violations should assist authorities and ensure that the right thing is done for the good of our girls…"  
MIA has reached directly to over 1550 students in 7 secondary schools, 150 women and 60 men in our awareness raising campaign about dangers of early pregnancy. This was achieved through formation of peer educators health clubs in seven secondary schools, facilitating peer education in schools and distribution of IEC materials. The peer educators` health clubs are running in the seven secondary school targeting female students and have been a highly successful vehicle for mobilization, awareness and Interpersonal communication. Under the project, Peer Education program focused on delayed sexual debut, career planning, life skills and professional development. MIA worked with the trained female peer educators and recruited two male peer educators from each of the seven secondary schools.
Community Dialogues and awareness creation
Under the project, MIA organized and conducted a community awareness workshop comprising over 150 women in Namakwekwe village whose content was family planning, menstrual hygiene and WASH. IEC materials produced included 80 t-shirts, posters designed and produced with printed messages. In addition, six community dialogues with 194 participants including traditional and clan leaders were held in different communities across the two districts to create awareness  and trigger community action of issues that were being addressed in the project..
Monitoring Project Impact
Mothers' Initiatives Africa has conducted 6 community feedback sessions (3 in each District) to ascertain how the project has impacted on people in different communities of the project area.650 expectant mothers, 1550 students, 280 community members and 60 men have been reached through this intervention. Efforts have been made to visit various health centers to assess the contribution that Traditional Birth Attendants has extended to the fight against maternal and child mortality in the two Districts.
We at MIA are pleased to report that; trained TBAs continue to play a salient role of ensuring that mothers continue to access quality reproductive health care services through referrals and that mothers  are safe, healthy and productive.  MIA,TBAs and  District Health Officers' are carrying out interventions, in their respective work plans and are doing tremendous work in regard to sensitizing respective communities on reducing maternal and child mortality, early pregnancies and child marriages issues and related dangers, traversing communities reaching out to them with this crucial information.
How this project activities have been reflected in the lives of beneficiaries and in the work of the organization.
Mothers' Initiatives Africa has continued to register success. A good section of Village level Community Health Workers, mothers, girls, men and the entire community in the project areas are entering a new phase – from just being knowledgeable about how maternal and child mortality can be reduced, reducing child marriages and early pregnancies to actually reaching out to family levels, schools and the entire communities, through accessing quality health care and reaching the concerned authorities to demand for their fundamental freedoms and rights. Learning of women who are visiting the nearest health facilities for delivery services, and parents, women and girls reaching Local council leaders, the Police to claim for their rights to education is not only amazing news but is also indicative of how project beneficiaries have been transformed from previously accepting the rudimentary and ancient way child birth as a part of their life and norm to standing up to safe motherhood and right to education.
Mothers' Initiatives Africa staff have equally been impacted by the project. The team leader, program staffs and volunteers have continuously learned from the project. They have been able to know which strategies work best to deliver concrete outcomes and they are focusing their efforts there.
Conclusions
While countries are making substantial progress in maternal and newborn health to achieve their goals, further improvements can be achieved by implementing innovative interventions in the postpartum period.  Strengthening health systems and integrating service delivery for the postpartum period offers potential for success.