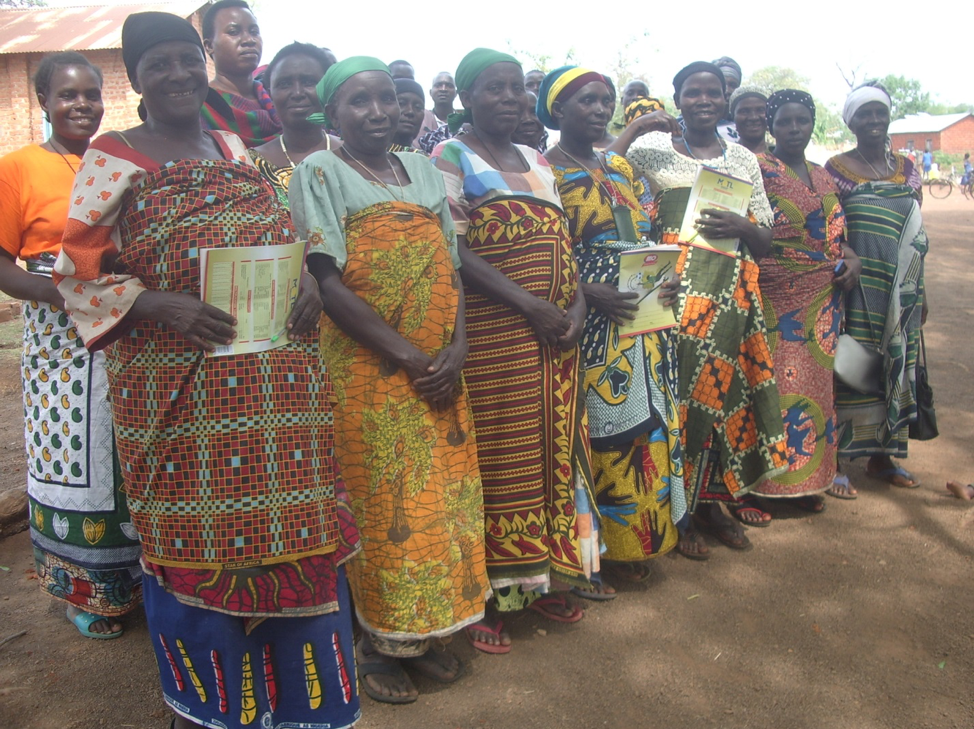 Greetings from Kasulu Youth Development (KAYD)
First and foremost, KAYD thank KTCT and your Supporters, for financial support to KAYD enabled  implementation of the project titled; Capacity Building of Traditional Birth Attendants (TBAs)-Kasulu District  which is contributing to reduction of pregnant women, mothers and  infants mortality rate  in Kasulu district council, Kigoma region-Tanzania.
Your financial support has been appreciative by many stakeholders in our area.
Now, the project has come to an end, therefore, please, kindly receive the second Project performance and Final/ completion report with financial report here attached with.
Please, go through the report below.
We kindly thank you for your continuous partnership.
Yours Sincerely
KAYD
SECOND QUARTERLY PERFORMANCE REPORT
BY 
Kasulu Youth Development    (KAYD)
SUBMITTED TO: Kitchen Table Charities Trust (KTCT)
November 2018
PERFORMANCE REPORT.
| | |
| --- | --- |
| Project Name: | Capacity Building of Traditional Birth Attendants (TBAs)-Kasulu District |
| Reporting Period: | August  – November 2018 |
| Reporting Date: | 12th November  2018 |
| Report Prepared By: | Rulakizuye Pattern  (KAYD Executive Director) |
| Email: | kaydmakere@gmail.com / info@kayd.or.tz |
| Website | www.kayd.or.tz |

I.     PROJECT OVERVIEW
In 2007, Ministry of Health, Community Development, Gender, Elderly and Children (MoHCDEC) issued the National Health Policy to promote improved health care and services for all people in Tanzania. Tanzania has been implementing the National Health Policy 2007 which envisioned a healthy community that contributes effectively to individual as well as to the nation's development. The mission was to facilitate the provision of basic health services that are of good quality, equitable, accessible, affordable, and sustainable and gender sensitive. The main objective was to improve the health and wellbeing of all Tanzanians, with a focus on those most at risk, and encourage the health system to be more responsive to the needs of the people and, thus increase the life expectancy. The National Health Policy 2007 had several specific policy objectives. These included the need to reduce morbidity and mortality and increase life expectancy for all Tanzanians by delivering better health services, which focus on requirements for vulnerable  groups such as infants, under-fives, pre and school children, youths, people with disability, women of reproductive age and elderly people to access health services
The project aims at increasing pregnant women access to improved delivery services through increasing skills and knowledge and equipping 150 traditional birth attendants (TBAs) on improved delivery services in rural and remote 5 wards; Kagerankanda, Titye, Kurugongo, Makere and Heru-Ushingo in Kasulu district by December 2017.
The project duration is 08 months, and the overall project budget is £ 10065, out of which,  £ 10000 is a financial support received from KTCT and £ 65 is KAYD own contribution.
2.0 Project Implementation and Achievements
2.1 Implementation:
Output 1
Increased skills and knowledge and equipping 150 traditional birth attendants (TBAs) on improved deliver services in rural and remote 5 wards; Kagerankanda, Titye, Kurugongo, Makere and Heru-Ushingo in Kasulu district by December 2017.
During the reporting period, KAYD through collaboration with government through health department and government leaders managed to organize and conduct training for 60 traditional birth attendants (TBAs), village and wards' government leaders and health facilities' staff in 2 wards; Heru-Ushingo and Makere in Kasulu district.
Based on the revised the national health policy 2007, every pregnant women delivered, the TBA escorting is paid TZS 8,200/-(Eight Thousand Two Hundred only).
Based on the above, all government leaders should supervise the implementation of the policy in respective areas. Moreover, it is their responsibility of government leaders to mobilize community members to establish social health funds, which will cover transport and fare for distant pregnant women to nearby health facilities.
Based on the above, 2 (two) facilitators from Kasulu district council; who were District Reproductive and Child Health Coordinator (DRCHC) as chief facilitator and district nutrition officer as assistant facilitator, assisted by health facility in-charge or Nurse midwife, facilitated the training for 5 days for each of  those wards remained; Makere and Heru-Ushingo, in Kasulu district.
The facilitators deployed training participatory approach, whereby; experienced TBAs, health facilities service providers were invited to present what they know. Moreover, the participants were divided into small groups for discussion and presentation. Plenary discussion for participants also was carried out. Questions and clarifications, too, were used. The facilitators also presented/lectured matters/lecturing the matters.
Facilitators managed to cover the following matters;
Concept of national health policy 2007
Concept of care and services for pregnant women
Preparation during the pregnancy period
Importance of pregnant to attend clinics
Importance of husband to attend clinic with wife
Concept of  family planning and methods application
Concept of nutrition and importance for pregnant women and children development
Importance of social health funds in the village/area
Importance of nutrition for pregnant women and children development
Responsibilities of TBAs for assisting pregnant women during the delivery
Responsibilities of government leaders through establishing and management of social health funds
Concept of health insurance funds, importance of  and procedure for joining the funds
Community mobilization skills for establishing and management social health funds
Coordination among the government leaders, TBAs and health services providers
Monitoring pregnant women in the areas
Key Achievements/successes;
During the project implementation the following changes were found;
No any child and pregnant women deaths recorded in the project areas
No any pregnant women who delivered on the way to health facility
No any delivery occurred under assistance of traditional birth attendants (TBAs)
In Heru-Ushingo ward, in particular, the TBAs demanded their (right) funds to the ward health facility as a result of training.
In Mvinza and Chenkenya villages in Kagerankanda and Kurugongo wards, respectively , in particular, have started community health funds for assisting the pregnant women who in the process of deliveries. Three (3) pregnant women were ferried during the nights to health facilities in September and October 2018, in the respective ward.
In Titye and Kagerankanda health facilities, men have started to escort their wives to the health facilities particularly clinic days. In Titye there were 17 men and Kagerankanda 23 men reported (Health  facilities In charge reports September and October 2018)
Despite the above, the participants also raised the following issues;
Majority of men do not escort their wives to the clinics due to lack of awareness on the importance for attending to clinics
No close information sharing on reproductive health matters between couples as sometimes men deny to support their wives as they think that the pregnancy are for other men.
Both couples have low awareness of family planning for mother and children development
Some TBAs are elderly who cannot provide services to pregnant women during the delivery, and no measures to recruit youth in villages; however, government emphasizing to construct dispensaries in each village while adding more health staff including midwives.
Some pregnancy complications cannot be met by TBAs such as; excessive bleeding, and others.
Challenges encountered are as follows;
Health facilities in-charges have not disclosed the information of existence TBAs/CHWs allowances as per current National health policy, and leading to increases of TBAs/CHWs continue to provide delivery services at their homes.
In some neighboring villages around the project areas, particularly, Buhoro, Kitanga and Nyamidaho, have requested KAYD to facilitate provision of the same training in their respective areas so as to reduce an increasing health risk facing pregnant women and infants.
 Conclusion
The report concludes that once the traditional birth attendants are empowered can bring positive change in the community through reducing delivery risks and death for both children and pregnant women. Moreover, this will be achieved through thorough cooperation among TBAs, and other health stakeholders including; government leaders, pregnant women and men,
Training Pictures
Please find pictures show Traditional Birth Attendants, government leaders and health facilities' staff during and after capacity building trainings in two wards, Makere and Heru-Ushingo, Kasulu district council.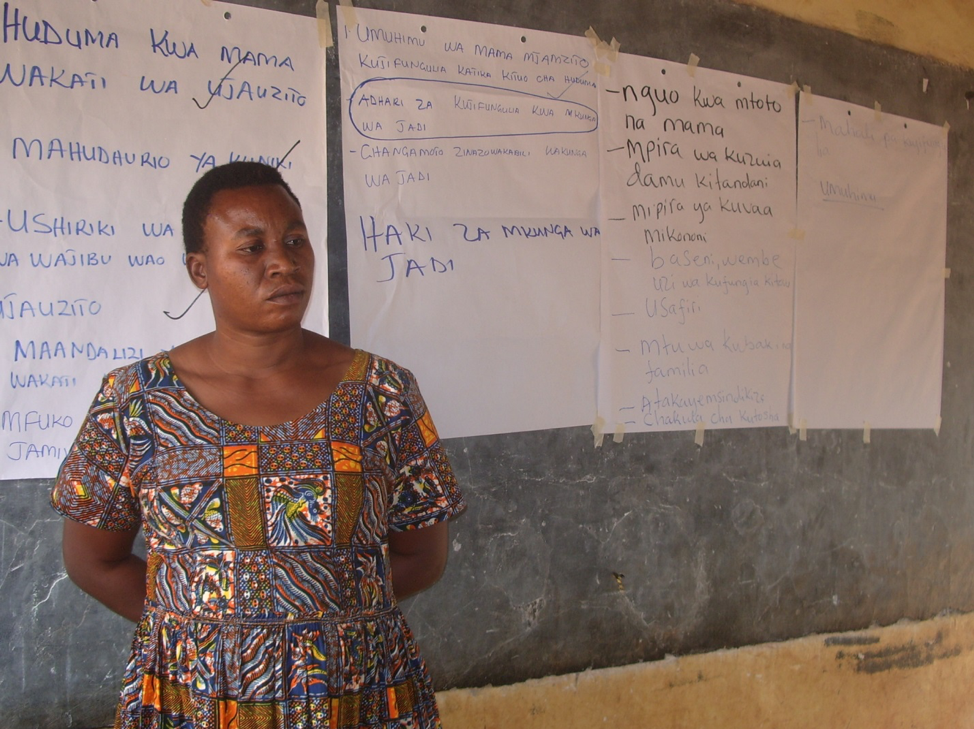 Figure 1:  Lucy Lukindo, a chief facilitator, delivering training at Makere village, Makere ward.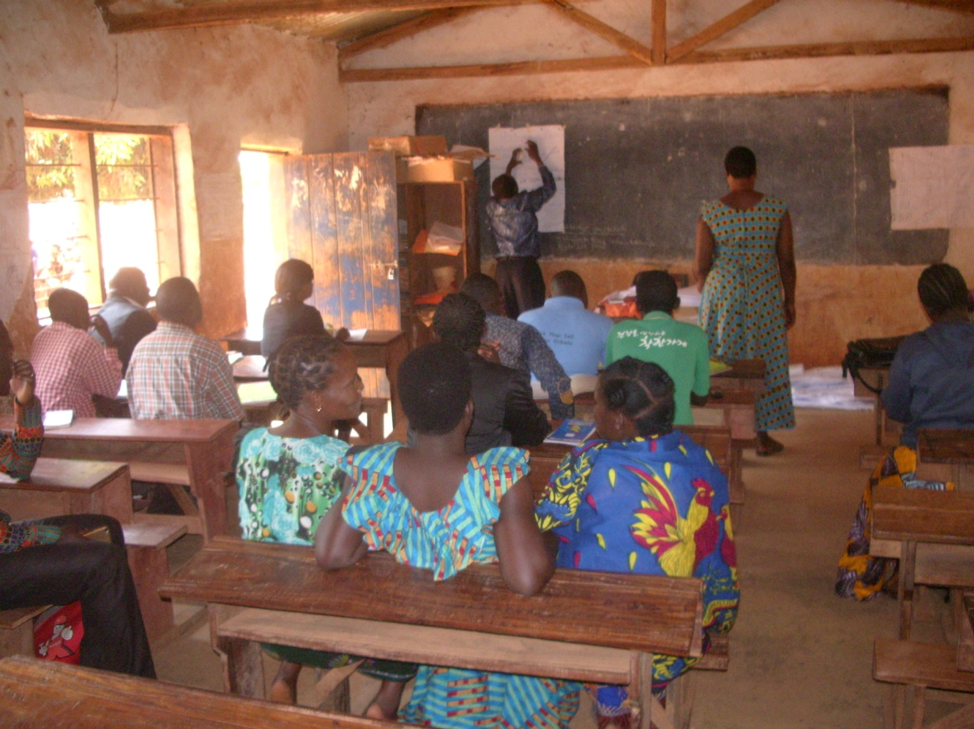 Figure 2: Mr. James Ngalaba, assistant facilitator writing a topic on flip chart during the training at Makere village, Makere ward.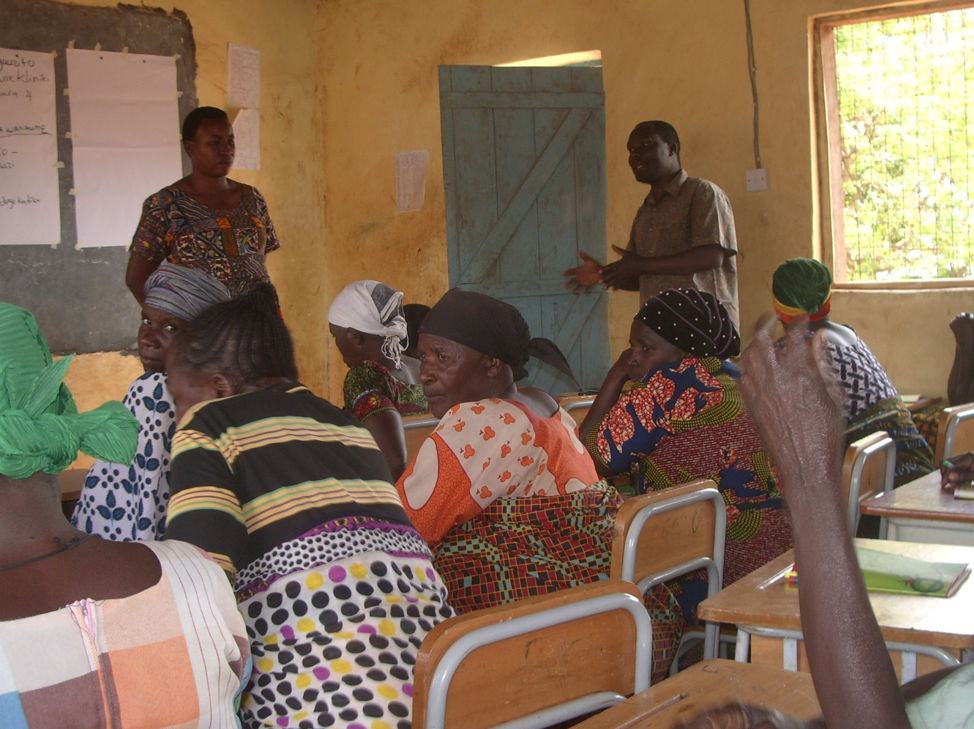 Figure 3: A Ward Executive Officer (WEO) of Heru Ushingo ward, clarifying on some issues asked by TBA about their payments.